Moët and Claude - what a wonderful couple!
On July 20 Moët was mated with the lovely stud Netis Hazzah, aka Claude, who lives in Wales. On September 18 Moët gave birth to 7 brown puppies, 4 males and 3 females. You can follow the development of the puppies on the blog.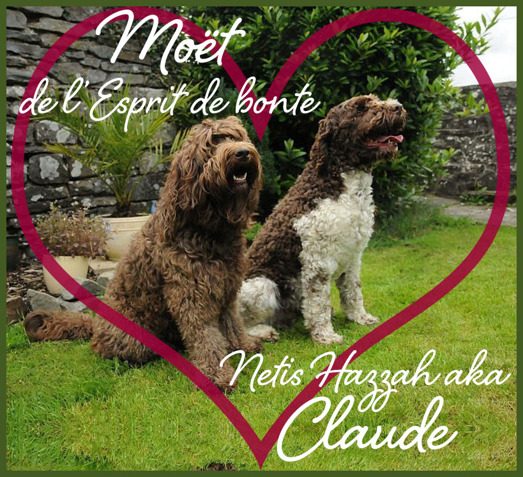 Claude in his long lovely barbet fur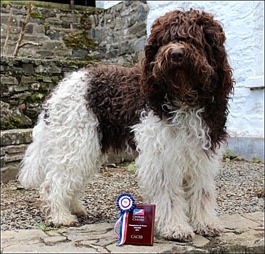 French Beauty Champion "Netis Hazzah"

Born: 22 March 2012
Height: 59 cm
Weight: 29 kg
Fur: Brown and white
Hips: HD-A
Eyes: PRA/Cataract: free
COI, Coefficient of Inbreeding: 1,56 over 5 generations
Claude's owner describes this wonderful male like this:
"Over the years I have owned several different breeds of dogs and each one in their own way has held a special place in my heart, however, if you are lucky once in a lifetime an extra special dog enters your life and for me that is Claude. I have watched him grow from a mischeivous puppy into a well balanced and strong male Barbet.

Claude has a wonderful temperament and greets everybody with enthusiasm, but he also has a thoughtful side and instinctively know when he meets my friends disabled son that gentleness and calm is needed. During the day he is normally out and about exploring our land but also loves his trips to the beach, forests and local towns, but he always knows where I am and is always looking to me for direction, at the end of every day he curls up with me for as much fuss as I can give him. He is an intelligent boy and loves to learn new things, in the hunting season he helps out at some of the local shoots which we both enjoy as a team."
Claude in short summer outfit