Beach walk with the Dutch Barbet club
2010-11-14
« Back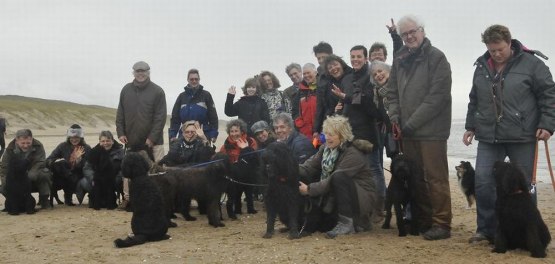 Today we had a nice walk on the Castricum beach, north of Amsterdam, together with around 15 other Barbet owners from the Dutch Barbet club. The weather was not really on our side, but we did not get too wet. The males were very interested in Yatzie, which made me understand that she will very soon start her heat. Yatzie had a hard time keeping the males away from her, and showed teeth and barked a lot!
When she was able to be free of them for short periods she liked to retrieve her favorite orange water dummy in the waves. She has become so good at returning it to me. I always bring yummie treats for her when she is doing water retrieving.
After the walk a nice hot tea in the Seaside restaurant. All the dogs allowed inside! There is a big difference in the attitude of restaurant owners here in Holland compared to Sweden when it comes to allowing dogs. In most places they are welcome. The waiters usually on their own inititive even bring a bowl of water!
See more pictures on the Dutch Barbetclub website Click on Niews and then on Klik hier for het verslag - on the activity 14 November
Kommentera gärna inlägget: