On the boat to Sweden!
2013-05-12
« Back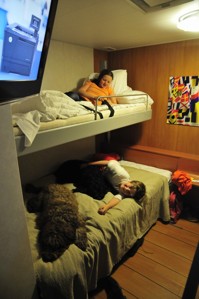 I love to travel with the dogs! It is an adventure for them as well as for me and the whole family. Last week we spent in Sweden. Most of the times we drive all the way but this time we took a ferry. I was lucky to find one from Germany to Gothenburg where dogs were allowed. Many ferries do not allow dogs at all. On this boat they could stay with us in the room, but not in the common areas. There was a small sand box for dogs to pee, but my dogs hate that kind of places so they found other solutions ;-) !
The nights on the ferries are very cosy and we always fight about who is going to stay in the bed with the dogs! With barbets it is so handy since they do not loose any hair! But of course there is other stuff in the fur! So I always bring a bed cover to avoid making the sheets too dirty.
There were many dogs on the boat so there was even a few playful moments with new dog friends.
Welcome to give a comment