Exploring Cluny - 3 days to go
2010-11-22
« Back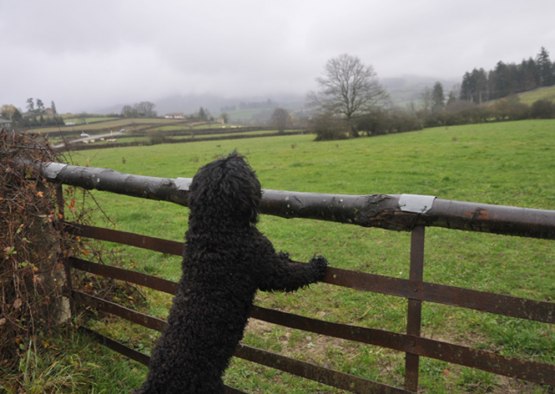 3-4 days and Yatzie is ready to be mated said the veterinary! I was relieved to hear that the timing of our trip has been perfect so far. Yet another test on Wednesday to make sure and then we will leave for Avignon where Django lives.
Today was a grey, rainy day but still joyful and full of experiences. Yatzie and I walked through a quiet Cluny, shops being closed on Mondays, which made the atmosphere the way it should be in this monastic village. The Benedictine Abbey of Cluny, founded in 910, was once the headquarters of the largest monastic order in the west: the Clunaic order. Dogs not allowed inside I still caught a glimpse of the old monastic grounds through the gates, and my soul was filled up with memories from my past in Greece - good and bad...
After a whole day in the car yesterday both Yatzie and I needed to get some exercise so we went up the hills of Cluny village and found a trail that we walked for an hour or so. We ended up in a muddy cow pen and both of us had to be showered off coming back to our B&B.
In the evening we had nice company in the room - kids, dogs and a kitten! Yatzie is totally fascinated by cats. But very scared too, since she was scratched in her face once, followed by a bad infection. This sweet little kitten was so tough, and used to dogs, so she just wanted to smell Yatzie. Yatzie was taken by surprise and kept a distance. But as soon as the kitten disappeared Yatzie went to look for her over and over again.
Welcome to give a comment
Marianne

• 24 november 2010 14:53:43

Dear E, how lovely to follow your adventures over there. Big hug from all five of us and Luna from Voorburg xxxxxx

Bart

• 23 november 2010 13:57:28

Your biggest love is waiting for you and (almost mama) Yatzie in Holland!
Kisses, Bart

margarita lioulia

• 23 november 2010 10:08:37

Hi there!
Just discovered this blogg and loved it with the first sight! Beautiful photos too! I almost envy you being in such a wonderful place with one of the biggest loves of your life - if not THE biggest one. All the luck with Yatzie's mating.
kram
Margarita

Bart

• 23 november 2010 09:59:08

What a fantastic surrounding over there! And what a good news that Yatzie is going to be mated in a few days!
I guess it will be hard to leave this pitoresque place. Probably the surrrounding of Avignon - home of Yatzie`s lover Django - will be just as nice......