A butterfly in our house
2011-02-27
« Back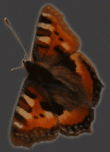 A butterfly came to visit our house this weekend! Yatzie was fascinated and did her uttermost to get close to it, check it out and catch it. Up the walls, on top of the dinner table she followed the funny little thing. The closest she got to it was when it got stuck inside the glass lamps hanging above our dinner table. But finally it disappeared. Maybe the beautiful butterfly changed its mind and went back to sleep since the spring like weather we had the past week now has turned into never-stopping rain.
Welcome to give a comment
Ewa Thurfjell

• 1 mars 2011 22:14:59

Oj, vad läckert, hon försökte verkligen få tag på den. Ja minns när Akilles var valp och jagade humlor, det var inte så roligt

margot

• 27 februari 2011 19:12:34

Dat was grappig toen we zagen dat er een vlinder in ons huis zat en we dachten hoe krijgen we hem er uit, maar we gingen hem er ook niet uit halen, dus ik keek op internet wat ze eten nektar maar wij kunnen het niet uit een bloem halen dus kunnen we mischien honing neer leggen, maar het was erg grappig met Yatzie en de vlinder.