Wow, plenty of milk already!
2015-09-02
« Back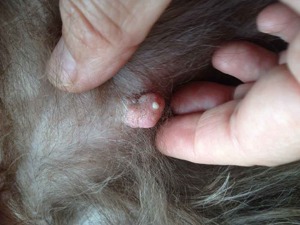 Wow, Moët is already producing milk! Her nipples have been growing much in size ever since the mating, and even more the last week. Today I saw some dry, white korrels around one nipple and checked for milk. There is plenty in all her 9 nipples!

The moment that a pregnant bitch will start to produce milk differs. Some don't start producing milk until the puppies are born, especially when it is the bitch's first litter. But Moët is already getting ready to feed her babies! Well done sweet heart!
Welcome to give a comment