Wait said the veterinary + Yatzie and the kitten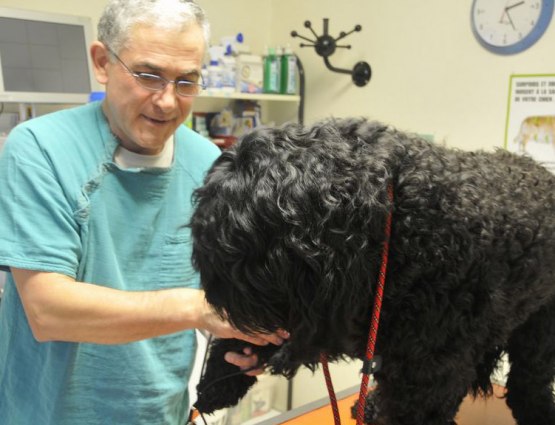 Yatzie is still not ready said the vet... So we just have to patiently stay and do another test Friday morning. It is Yatzie who is the big boss now.
Yatzie has been biting and licking a toe the past days, I found a small area red, wet and with some pus. She had the same thing last year. The vet said it is a hot spot. Dogs suffer from this when it is too hot inside, it usually comes when winter is approaching and we start turning on the heat he explained. In Sweden no vet could ever give me an explanation so I am glad to have one now. Last year I tried to treat it with everything natural I could think of (silver cream, propolis etc) but it did not help. Finally I had to give her antibiotics. Now the vet put some cortison on it and a bandage that should stay there for some days. I hope it will heal this way.
Yatzie is getting friendly with the B&B kitten
Yatzie is getting more and more friendly with Flash, the kitten. This evening Flash was playing with Yatzies ears. Can you believe that Willemien? Take a look at the video. It is so sweet to see them together.
Welcome to give a comment
mamma

• 30 november 2010 21:11:57

Härlig film! Du tänker väl inte skaffa en katt???

greet

• 25 november 2010 23:29:53

Hi,Elisabeth,
I hope,that Yatzie brings a belly full of barbichons back to Holland.
Say hello to Elaine from us and have a nice trip home.
Kontar participates now also the hunting training in Utrecht and he likes that.
Last Sunday we had the event in the Kotterbos of Marylou and Rudie[ JHSA] and we won with our group ,the first price, jippie.......
Take care,
Greet.
Yatzie and the kitten Flash playing.